We are Bedrock,
GraniteQuartzQuartziteMarble
is our passion.
Bedrock Granite Company cares about our customers and our reputation. That's why when you call, we answer. Our knowledgeable sales staff will help you every step of they way. Turning your dream project into a reality!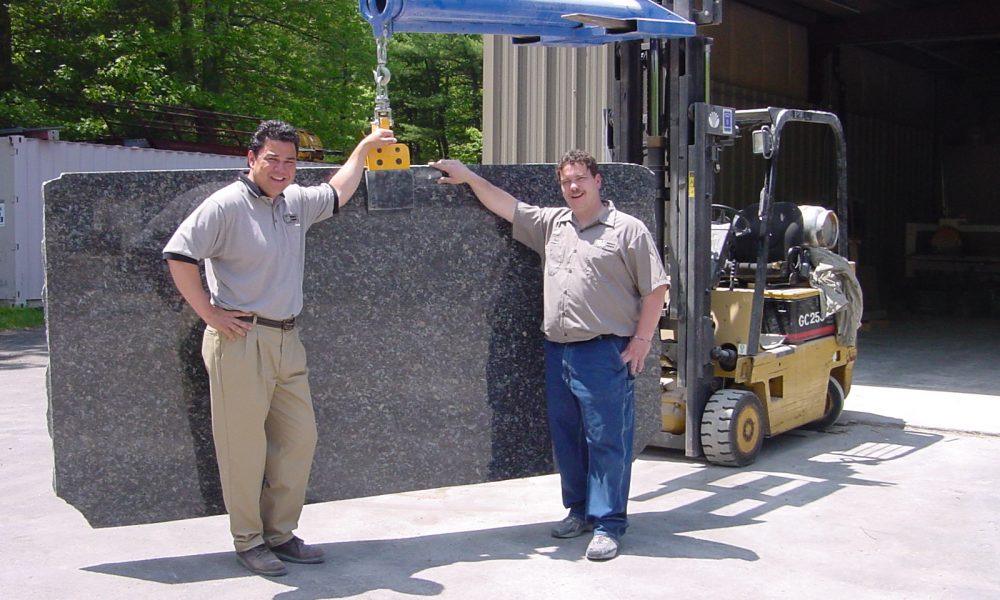 Who We Are
Meet Joe LaPalme & Bert Costa
Bedrock Granite was founded in 2005 by lifelong friends Bert Costa and Joe LaPalme
Bedrock Granite was founded in 2005 by lifelong friends Bert Costa and Joe LaPalme. The first workshop/showroom was an 800 square foot facility where everything from cutting to polishing was done entirely "by hand". It was a dusty environment as most stone shops were at the time. Bert and Joe worked with the belief that quality work and customer service were the keys to success. Satisfied customers referred their friends and neighbors to Bedrock and the business needed to expand.

In 2010 Bedrock Committed to being GREEN!
In 2010 Bedrock moved its fabrication shop into a 10,000 square foot facility featuring state of the art machinery.  Including CNC machines and a Robotic water jet saw that precisely cuts stone with a 60,000 PSI high pressure stream of water. Every facet of the fabrication process utilizes water which keeps the dust to a minimum resulting in a cleaner, safer work environment for our employees and a quality product for our customers.  
3,000 Gallons of Water is recycled Daily!
Bedrock recycles an average of 3,000 gallons of water Daily thru a State-of-the-Art Water filtration system.  All solid waste is disposed of in a Clean Fill making Bedrock one of the Greenest Stone Cutters in the Country! 
Customer Service and Quick Turnaround is what sets Bedrock Apart!
Not all stone fabricators are the same! Utilizing the latest technology Bedrock is able to deliver a quality product quickly! Usually within a week! Whether you choose granite or the latest in Quartz surfacing. We specialize in both residential and commercial work and have 3 consumer-friendly showrooms. 
What we are most proud of is our reputation, which is in no small part due to our dedicated employees who themselves take pride in their craft.  
Bedrock has Three Consumer Friendly Showrooms.
 The Norton Showroom is located at 421 Old Colony Rd. (Rt. 123) Norton Mass. 
Bedrocks Full slab Showroom is also located in Norton just down the street from the Norton Showroom. You can view Full Slabs of Quartz & Granite.  (Appointment Suggested). 
The Wrentham Showroom is located at 12 South St. Wrentham, Mass. (Wrentham Center) 
 Both Showrooms offer Free quotes and take-home Samples of quartz and Granite.  
We Know our Reputation & Success Depends on your Satisfaction.
We want you to call on us again for your future granite projects. We want you to refer your friends and associates to us. We know we must earn these privileges by making sure you are pleased with your experience. We are confident that we have continuously exceeded our clients' expectations.  
Joe LaPalme & Bert Costa 
Fabrication & Installation
State-of-the-Art: Laser Templating, Robotic Water Jet Cutting & CNC Fabrication
Bedrock uses the latest in high-tech stone fabrication equipment. The finishing touch, however, is still done by hand. Every job is "hand finished" further assuring you of a job well done by our highly experienced craftsmen.
Professional Installation
Bedrock installers are highly trained and experienced in every facet of the stone fabrication and installation process. They'll arrive on-time, do the job correctly, clean up, and answer any questions you might have.